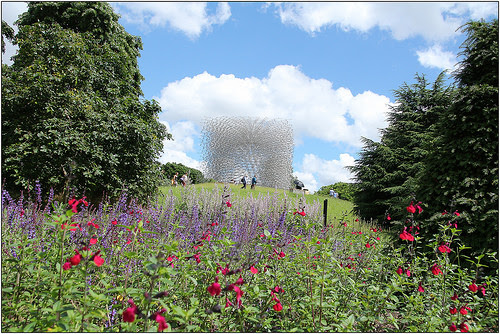 The only difference between The Hive installation at Kew Royal Botanical Gardens and the real-life bee hive that inspires it, is that if the weather becomes inclement, the installation closes, while the real hive keeps on buzzing.
Created by UK artist Wolfgang Buttress as the focal point of the UK Pavilion at the 2015 Milan Expo, The Hive is based on research into honey bees and how they function. Made of thousands of pieces of aluminium fitted with hundreds of LED lights, this exhibit pulses to the rhythms of real life bee activity in a hive nearby.
Kew Gardens, just west of London, England, is the new home for the structure. Set in a field of wild flowers, the 17 meter high cylinder has an inset cone shape that lights up and pulses with the energy of the bees in the hive behind it. This highly immersive experience was designed to enlighten the public about the importance of honey bees and other pollinators to the world food supply.
Small vibration sensors called accelerometers have been attached to the frames of the bee hive and transmit the vibrations of sound and activity from the working bees to the lighting system of the larger installation. The accompanying soundtrack made up of bee sounds and music make the experience unique in the way it connects visitors to the secret world of bees.
BEEGrll is all a-buzz about the education possibilities that The Hive is providing to all visitors. Talks, tours and workshops take Bee information to a new level. Here's the Kew's buzz on wild flower pollination:
"British wildflowers are under threat and therefore so are the pollinators they feed. Not only is it heartbreaking to lose the beauty and colour these native flowers give the UK landscape, but the plight of pollinators has a very real impact on the food we eat ourselves."
Royal Botanic Gardens, Kew Director, Richard Deverell
Here are a few great tips from the scientists at Kew for planting pollinating plants:
How you can help?
There are lots of things that we can all do to help. Here are some of the steps outlined in DEFRA's National Pollinator Strategy:
Plant for pollinators: Grow more native, nectar and pollen rich flowers, shrubs and trees.
Leave patches of your garden to grow wild and leave some areas undisturbed as much as possible to allow for insect nests and hibernation spots
Cut grass less often and, if possible remove, the cuttings after you mow longer grass to allow plants to flower
Don't have a garden?
No problem. Sow wild flowers on your balcony or in a window box – you can use anything that can hold soil, water and seeds, from buckets to old boots!
So get out those old boots and plant away! Find inspiration everywhere and do your bit to help save the Bees.